Tokyo is 'next step' after Mandy and legal team win landmark ruling from Court of Arbitration for Sport
By Jeff Hicks
Team Bujold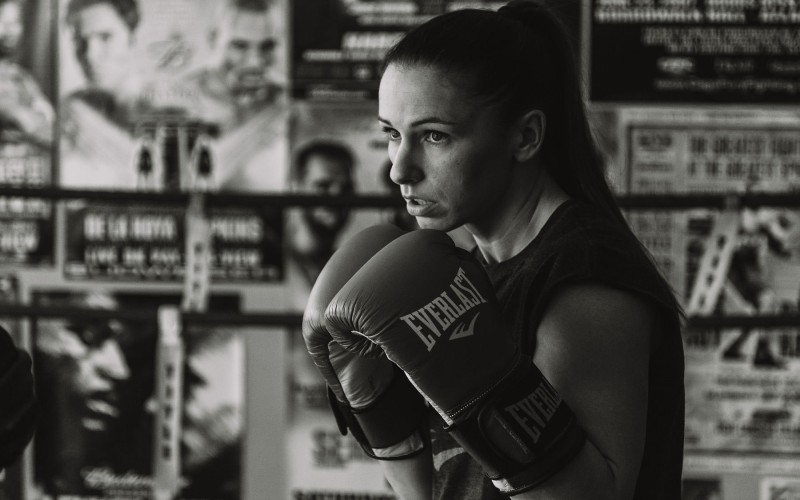 TORONTO —
Mandy Bujold is much more than Waterloo Region's community champion.
She's a world champion for women now. A gold-medalist for equality. An undefeated defender of motherhood in the legal ring where the toughest punches are often felt if not seen.
Those title belts became hers to wear on Wednesday as the Court of Arbitration for Sport released a landmark sports ruling that allows the Canadian Olympic Committee, come Monday, to add Mandy to its list of athletes heading for Tokyo and the fast-approaching games.
She can't be kept away simply because she chose to have a baby back in 2018.
So what if the Pandemic twice wiped out the qualifiers Mandy was set to compete in.
The International Olympic Committee's boxing task force must still make accommodation for women who were pregnant or postpartum — as Mandy was — during the retroactively-chosen qualification period.
That's the ruling. It's a knockout victory for female athletes of the present and future.
A crumbling pillar of gender-based injustice hit the canvass. Mandy delivered the final blow.
"This is a message for all women," a triumphant Mandy said at a press conference on Wednesday afternoon. "If you want to have a family and compete at the highest level, you can do it."
So Mandy, as determined as ever, continues to train and is poised to become the first female boxer to represent Canada at two Olympic Games, including Rio in 2016.
The 11-time national fly weight champ, who won the national Olympic trials for Tokyo, was ranked second in the Americas before taking time off to have Kate Olympia, her two-year-old daughter.
"We know that given Mandy's pre-pregnancy ranking, it means she's going," said Sylvie Rodrigue, who led Mandy's legal team at Torys LLP. "The Canadian Olympic Committee is registering its athletes on Monday for Tokyo. It's the deadline to register Team Canada and Mandy will be on that list. From our perspective, the next step is Tokyo."
Mandy masterfully built a juggernaut of public support in her two-and-a-half month legal battle to topple the sexist attitudes that still held sway in some Olympic circles.
Rodrigue and Torys LLP did spectacular pro bono that made Mandy feel proud.
Some of the world's greatest athletes — including Kitchener-raised men's heavyweight champ Lennox Lewis, Olympic hockey legend Hayley Wickenheiser and tennis icon Billie Jean King — backed Mandy with their tweets and social media statements.
"Another win for the good ones/pregnant ones/breastfeeding ones, in such an archaic old boys system," Wickenheiser tweeted after Mandy's win followed the IOC allowing Canadian basketball player and breastfeeding mm Kim Gaucher to bring daughter Sophie to Tokyo.
"Some of the bravest voices to stand for 'what is right' in Olympic sport and to the @IOC are (Canadian)."
Local politicians, the federal government and Canadian Olympic Committee stood with Mandy too. Even Prime Minister Justin Trudeau tweeted his congratulations in the wake of the legal victory on Wednesday.
"Congratulations on winning this fight, Mandy — I have no doubt you'll win many more," Trudeau posted. "Canadians across the country are rooting for you, whether you're fighting for equality for women athletes or for an Olympic medal for #TeamCanada.'
Weeks earlier, Lewis found it "preposterous" that Mandy was being denied a boxing spot. King was in fighting form on social media too.
"Pregnancy is not an injury & should not be treated as one," King said on Twitter. "@MandyBujold should be allowed to compete. Women athletes will continue having babies, & the I.O.C. needs a rule in place now."
Now, thanks to Mandy's legal victory, there is precedence.
"Out of all the battles I've prepared for in my career as a boxer, I never thought in a million years that a battle for gender equity would be the most difficult," said Mandy, whose amateur career boasts more than 150 bouts.
"In 2021, I never thought I'd have to fight this battle. This has been one of the biggest fights of my career — also the fight with the most meaning. I was standing up for what I believe is right and the dream I worked so hard for."
That dream is to fight for Canada in Japan and bring home a medal. Pandemic roadblocks tested her determination. Legal clinching didn't faze her.
"It literally felt like I was preparing for a fight," Mandy said. "Even the day before our court case happened., I had all the same emotions I would have if I was stepping into the ring. I think there are so many correlations between what happens in law and what happens in the ring. If anything, this was actually the best preparation for Tokyo."
Years down the road, long after Tokyo, Mandy will have a conversation with Kate Olympia about this gruelling legal tussle. And why it was so worth every second.
"Never for one moment do I want her to feel as though her dreams or choices are limited because she is a woman," Mandy said.
"The sky is the limit for all women — and for my daughter."