By Jeff Hicks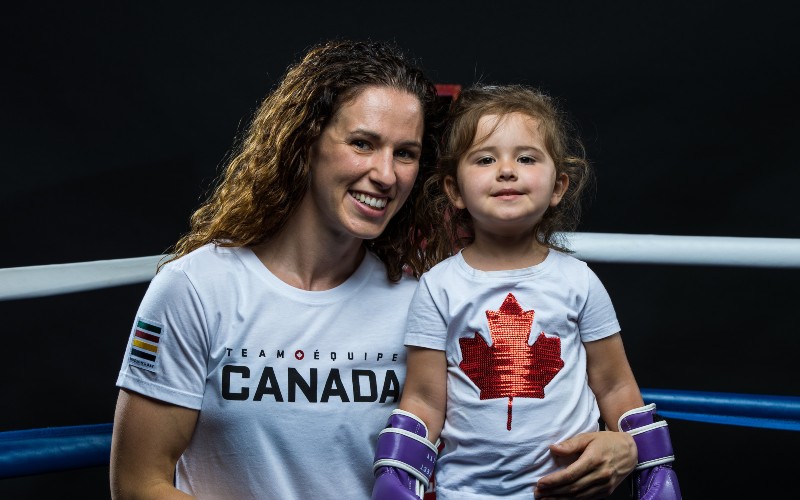 Team Bujold
TOKYO
The final Olympic moments dwindled in Mandy Bujold's stellar boxing career.
Draped in Canadian red, a true national champion pulled her still-wrapped hands together and traced the shape of a heart. Index fingers at the top. Thumbs at the bottom.
Half a world away, mommy's digital old-school message from the ring was received.
Little Kate Olympia, the two-year-old sweetheart at the centre of the biggest legal bout in the intertwined herstory of motherhood and five-circle pugilism, understood mommy's message.
"I had told Kate I was going to do that for her," said Mandy a few nights — or was it days?— later as she prepared for a flight back home and a family reunion in Kitchener.
"I told her to watch my fight and at the end of the fight, I'm going to make a little heart for you."
When mother and daughter talked on video link long after the judges' decision went the wrong way, Mandy asked K.O. if she'd see the little heart sign made just for her.
"And she did one too," Mandy said.
That's how it ended on Mandy's 34th birthday.
How many amateur flyweight fights had the 11-time national champ danced nimbly through— 180 fights and the big finish comes with a disappointing decision and a spectacularly simple declaration of love between a mother and daughter that much of the viewing world missed.
No judges. No politics. No pandemic. No dastardly stomach virus, like the one that cost Mandy a medal at the 2016 Rio games. No teams of lawyers, lined up seven deep, could diminish this.
In a sport and on a stage where purity is scarce, this was the real thing.
"I'm proud of getting here," Mandy said. "I can still always call myself a two-time Olympian. It was still fun to watch Kate put it on TV and make a little video of her watching me. She was quite excited about it. She kept calling my opponent my 'friend'."
Just like the friends, Kaitlyn Clark or McKenzie Wright, who would come over and spar with mommy when Mandy trained.
Unlike the legal enemies who lined up against her mom in court to defend an International Olympic Committee's boxing task force decision that essentially used Mandy's pregnancy in 2018 to keep her out of the Games.
She couldn't fight while she was on maternity leave.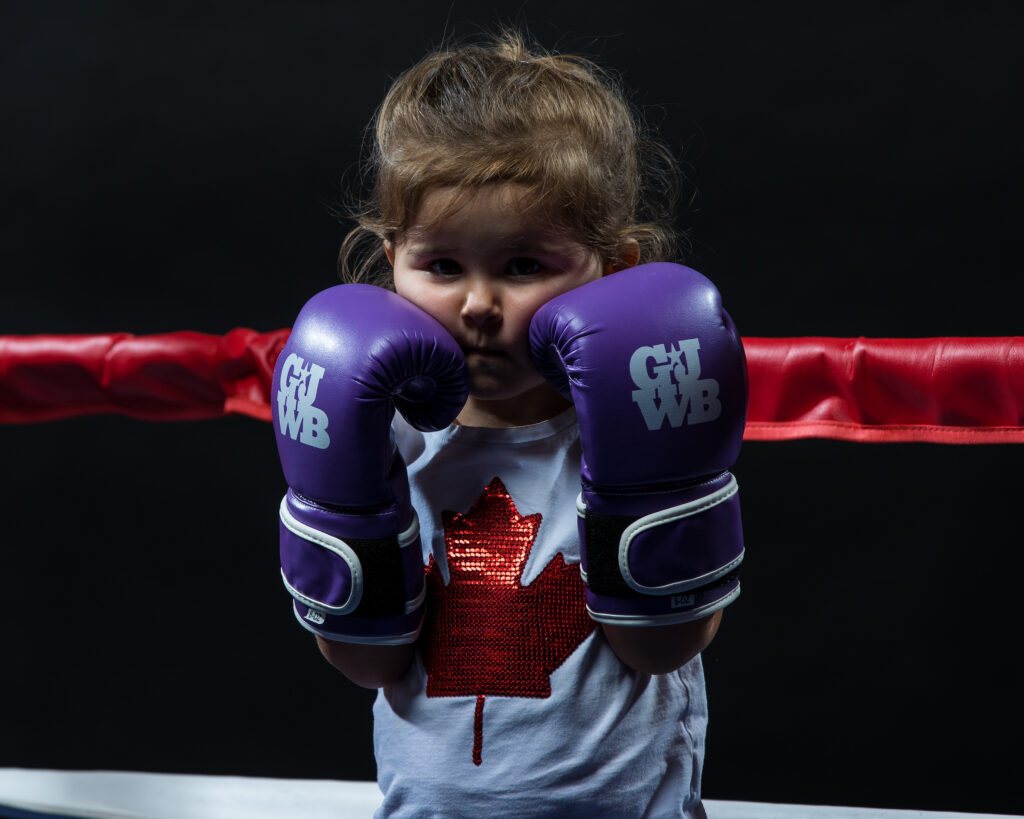 She missed the three events — the 2018 worlds, the 2019 worlds and the 2019 Pan Am Games — used in a pandemic time-pinch to decide which female fighters got spots in Tokyo.
Tough luck for Mandy. But she was tougher. Mandy chose to fight like a mother.
This was a brutal battle for the ages. Mandy fought for mothers who are athletes. For future mothers who will continue to be athletes. For little Kate when she grows up.
Even after Mandy and her legal team won the ruling from the Court of Arbitration for Sport and the IOC,s boxing task force was ordered to submit, the low blows and rabbit punches continued into July.
The Games were just weeks away.
Mandy won the case but she wasn't allowed a clean victory.
"There was still a lot of back-and-forth nobody was aware of," Mandy said. "That was the toughest. I was at the point where I didn't even care about the Olympics any more. It completely changed my view on the Olympics. I had built this up in my mind for so long. It left a bad taste in my mouth."
And the tears often flowed. With her Olympic dream dangling from a frayed thread on a judicial robe she sometimes broke down. Her husband Reid had seen it all before, starting with when an Olympic spot somehow eluded her in London nine years ago.
"Mandy, you cried in 2012, you cried in 2016 and now you're crying again," Reid told her. "There's nothing different in that sense of what it took to get here."
Tears, it seems, are the enduring Olympic currency for medal-chasing champs. And Mandy has paid that weepy price again and again.
"How many times did I show up to the gym in tears after four or five hours of trial preparation on different scenarios in the witness preparation stuff," Mandy recalled of those sobbing visits to her coach Syd Vanderpool's training facility in Kitchener. "Sometimes I would sit down in his office and I would cry. He would always have a story or quote or a song or video — or something — to just talk me through it. He'd get me to the other side and get me to put that work in that I needed to put in. We knew this could go our way. We needed to be ready."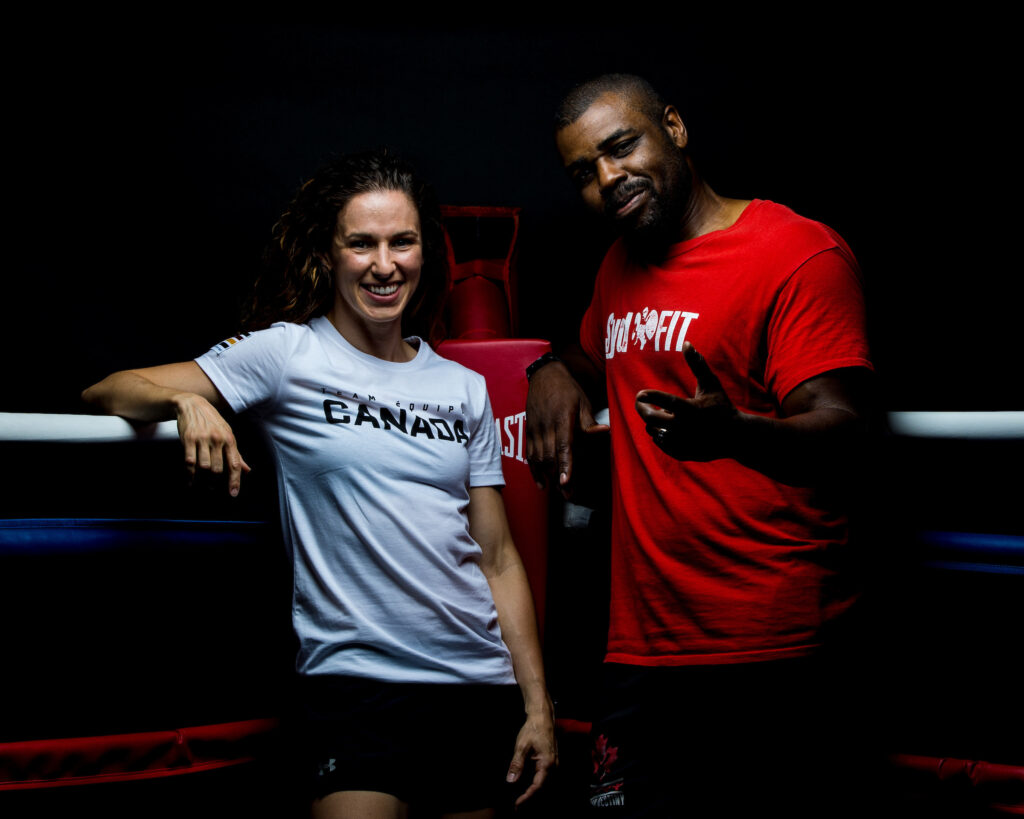 But how do you spend every ounce of your energies slaying a world-size bureaucratic Godzilla one week and hold onto to enough might to out-box a mere mortal over three fast rounds a few weeks later? That's the trick that eluded Mandy in Tokyo.
"It was OK. It was average," Mandy said of her performance in her first true test in 18 months. "It's hard to know what to expect being out that long."
And between rounds, she was essentially by herself. The pandemic forced her coach Syd to stay back in Kitchener. Her last Olympic coach, Adrian Teodorescu, passed five years earlier.
She felt so alone in the final fight of her amateur career.
"Going into my corner, I was not absorbing the information given," she said of her Canadian coaches in Tokyo. "They're not Syd. They don't bring anything out in me. I knew I was going to have to bring that out in myself. I thought I did the best I could."
So Mandy sat down and took a deep breath. She took some water, stood up and tried to imagine what Syd would be telling her in that moment. The last round was her strongest.
"I'm proud of everything it took to get here," she said from Japan.
"I'm OK with this being the last chapter, the last fight. I think I'm at peace with that. The whole process took a lot out of me."
Mandy still has lots to do. She wants to support Reid as he writes a children's book. She's been writing a lot and has incredible ringside tales to tell. She loves public speaking.
And there's a little girl waiting for her mommy at home in Kitchener.
Mandy is bringing Kate an Olympic mascot stuffy to go with all the other mascots toys collected from various events mom fought in.
"I got another one she can add to that collection and play with," Mandy said.
Returning empty-handed? Hardly. In the shape of a heart, Mandy won it all.