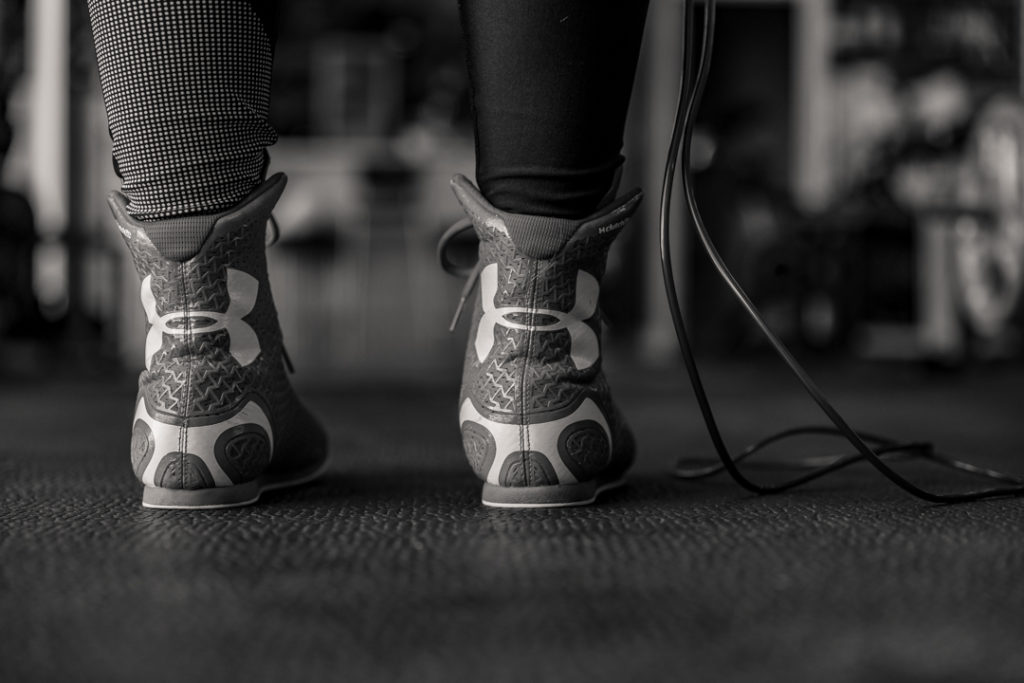 By Jeff Hicks
Team Bujold
MONTREAL—
Fast fists fly above fast feet.
Still, a world-class fighter needs both in the battle zone between the ropes.
But which canvas-top quickness — pace-pushing dukes or nimble toes — is more crucial for a an Olympics-bound boxer to boast?
"Fast feet, for sure," said Mandy Bujold, Waterloo Region's community champ.
"If you can't get your feet in the right position, you'll never hit anybody. No matter how fast your hands are, nobody's going to stand there and let you hit them."
No opponent in Debrecen, Hungary is going to hold a palooka pose for Mandy at the Bocskai Memorial Tournament the first week of February.
After all, this tuneup for the continental qualifiers in March, is a get-acquainted encounter between Mandy and top fighters from Russia, India, France, Poland and Ukraine.
Mandy, owner of the fastest flyweight feet in the world of women's amateur boxing, dashes around the ring like she has Hermes wings sewn into her size 6 boxing shoes.
Yes, Mandy's fleet feet are small. Little, even.
"Tiny," the 11-time national champ confirms.
"Everybody always says I have baby feet. Every time I leave my shoes at the door, people make jokes about how small my feet are. They say I should shop in the kids section."
Laugh, if you dare.
Mandy's trademark footwork is her biggest asset as she works tirelessly to get to Tokyo this summer and become the first female boxer in Canadian history to fight in two Olympics.
She won gold at the Canadian Olympic qualifiers in Montreal in January wearing those size 6 high-tops, custom-made for Mandy by Under Armour for the Rio Games in 2016.
They even have a Team Bujold logo stamped inside the shoe.
Fast. Fluid. Precise. Or FFP, for short.
That's how her coach, a former North American pro title-holder Syd Vanderpool, describes her footwork.
"It's no accident Mandy is Fast," Vanderpool explained. "She puts in rounds and rounds of agility drills. She's Fluid because she seamlessly knits moves together in a flow that looks like dance."
Yes, dance. A sure-footed shuffle. Hint of a moonwalk. A furious foxtrot.
Vanderpool oversaw a footwork "dance off" between Mandy and Justin Parina, the national men's flyweight champ, at Montreal's Olympic Stadium this week.
It was a so-you-think-you-can-dance showdown at the national team training centre.
No gloves. No punches Just bare hands and a pair of elite boxers bustin' moves.
Plus Precision. That's what sets Mandy — who chose to take dance class over gym at Forest Heights high school in Kitchener before taking up boxing — apart from her challengers.
"Every foot placement is no accident," Vanderpool said. "Those placements are intended to create distance and angles — or close distance, which can set up her attack with precision."
And Mandy's fabulous footwork can get better. She's working on it.
"It's something that's come natural to me," Mandy said. "I know it's a strength of mine so why not continue to strengthen it."
A month before Mandy dominated the Canadian qualifiers, Vanderpool was graced with moment of coaching clarity. He strolled into the SydFit gym and shared his footwork epiphany with his fighter. Everything, all the work on all her other glowing skills, was no longer a priority.
"Wait a second," Vanderpool said. "We know that you have some of the best footwork abilities in the world, why don't we continue to work off that? We know you're good at it.
Let's just make it so that its world-class."
Mission accomplished. Next stop is Hungary. Then Argentina. Japan is getting closer.
A pair of tiny feet can get her there. Tiny feet suit Mandy just fine.
"I'm only 5-foot-2-and-a-half," Mandy said.
"If I had big feet, that would be funnier than little feet."