Two fights, two punishing victories got Waterloo Region's Community Champ rolling in the ring
By Jeff Hicks
Team Bujold
KITCHENER —
The knockout moment unspooled in slow-motion.
Jab. Jab. Right hand. Darkness.

A red-shirted opponent toppled before Mandy Bujold, just 90 seconds the Kitchener fighter's second amateur fight, held in a steamy and storied Toronto gym above a broken-down auto shop a decade and a half ago.
The perfect timing of that Mandy punch — leaving her foe stretched out and face up in the same ring Ali and Chuvalo once danced 15 rounds upon at Maple Leaf Gardens— was staggering.
The triumphant revelation was undeniable.
"I think I've found something I'm really good at," Mandy thought to herself.
Really great at, actually.
Fifteen years and 165 fights later, Waterloo Region's community champ is determined to grab an Olympic medal. Rio is behind her. Tokyo is in her fly weight sights.
The 11-time national champ is determined to become the first Canadian female boxer to punch her way to two straight Olympic games.
But that knockout of Mississauga's Nicole Farrugia in the bustling belly of Sully's Boxing Gym, with metal fans whirring above and murals of boxing greats splashed across the sweat-soaked walls, is ingrained in her champion's psyche. Like the searing sun she warmed up under on that late-May day in 2005, outside a modest gym oozing with boxing history.
So far, it's Mandy's only knockout win.
But that temple-smacking moment, in the Sully's setting where greats like Muhammad Ali and George Chuvalo and Lennox Lewis once trained, propelled her promise into dazzling reality.
The underground vibe, like the chain dangling over the ring from the rafters, infused the Kitchener teen with street-wise grit.
Suddenly, Mandy was part of something bigger.
Kitchener's Donna Mancuso, a pioneer of women's boxing, stood in her corner, applauding when Mandy's name was announced. Mancuso let Mandy wear her blue national team uniform, its lightweight sizing sat baggy on the novice teen fighter. But it was the only decent uniform they had for Mandy.
She draped herself in the big jersey with pride.
"For me, that was a super-proud moment when Donna let me wear her uniform," Mandy said.
Mancuso, a past national champ and world championships bronze medallist, felt Mandy deserved to wear it. Mancuso knew, one day, the future two-time Pan Am Games gold medallist would have her own "Canada" duds.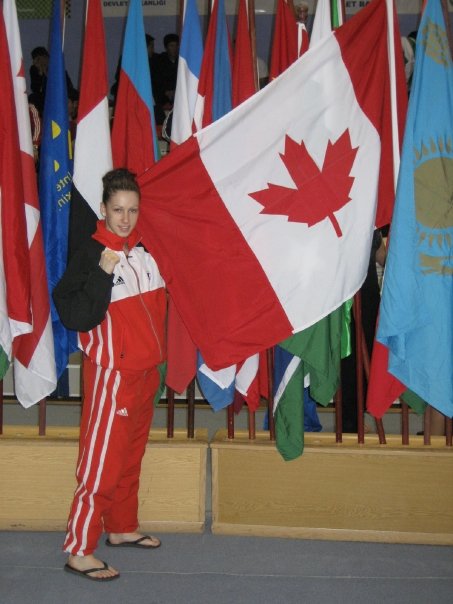 "She has always had some spark in her that I could see from Day 1," Mancuso recalled of the teenage Mandy.
"I knew that she would surpass my accomplishments."
Below the ring, Rick Cadilha, Mandy's first coach at the Waterloo Region Boxing Academy, clapped and shouted instructions.
"As soon as the bell rang, Mandy came out looking like she had been in the ring many times," recalled Cadilha, who hung around Sully's as a boy growing up in Toronto. "Mandy's skill was too much for the girl."
So was the devastating right hand that ended the fight. Farrugia's legs collapsed beneath her. The gym went strangely quiet.
"I remember this crowd went completely silent, which I thought was odd because normally during a knockout the crowd goes crazy," Cadilha said. "But here is this tiny girl that wins a fight by knockout."
Sully's was always a special place for Cadilha, even after he moved to Kitchener. The original owner, Earl "Sully" Sullivan, used to hand leftover hot dogs to the Kitchener kids, like Cadilha, who came there monthly to fight.
In Kitchener, Cadilha learned from legendary Academy coaches Jerome "Hook" McComb and Arnie Boehm. Somehow that May day, though McComb and Boehm had passed, they too stood arms folded beside Cadilha in Mandy's corner. The mists of memory surely shrouded their presence and muffled Boehm's eternal boxing punchline.
Hands up. Chin down. Not the other way around.
Perhaps even the fighting spirit of Ali nodded poetic approval in this hallowed heck-hole of a boxing pit. Mandy's current coach, Syd Vanderpool, once trained at Sully's too for a title fight at glitzy Vegas casino.
Greatness and grittiness mix magically in that humble house of champions.
Mandy still keeps in touch with Sully's owner Joe Mantiega, a former boxing champ himself. He was there that knockout night in 2005.
She's proud to say that. With Mantiega watching, the once ring-shy Kitchener girl transformed into a relentless and punishing pugilist.
"You got that style from that guy," Mantiega told Mandy, pointing at Cadilha.
"That's Sully's style."
Was this the same girl who loved training but had avoided sparring because she didn't like getting hit? Mandy came up with excuse after excuse until coaches convinced her to start competing.
Her first fight? That was Feb. 5, 2005 at the Century Gardens.
The Brampton Cup tournament was unlike the "show" fight to come with the bow-tied ring announcer at Sully's. This was fight after fight. Boxers abounded at the community centre. Mandy sparred with her doubts in an unfamiliar arena.
She warmed up with Cadilha but she had two unfamiliar coaches in her corner. Growing up in New Brunswick and in Kitchener, she hadn't done anything so brutally competitive as step in a ring for a real fight.
"I was so nervous because I had no idea what to expect," Mandy recalls. "I looked at every single girl that walked by and wondered — Is that my opponent? Is that my opponent?"
But Mandy could tell Cadilha was proud of her. He wore a look that resonated with her. It was a look that said he had uncovered a "diamond in the rough" that was about to sparkle.
Mandy glanced at the empty ring and felt a sense of comfort and confidence.
Suddenly, after a seemingly endless warmup, this felt right.
The competitive ring was her new home.
"Oh my god, I'm going to go in there and actually beat someone up and this is legal?," Mandy thought to herself. "It honestly felt like this was something I had been waiting my entire life to do. It was super exciting"
It had to be legal. She had two career cops, Mancuso and Cadilha, behind her.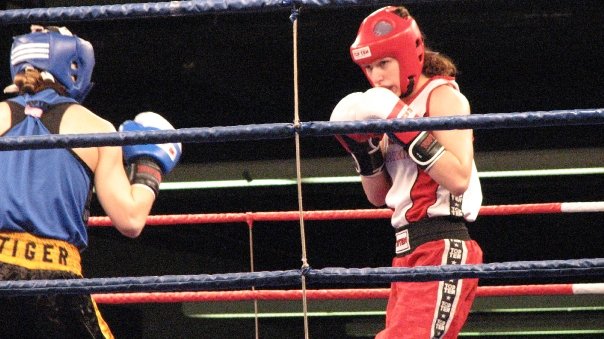 Facing her was Orangeville's Ali Mullins. Mandy ran up a punch count that put her opponent hopelessly behind. The referee stopped the fight in the second round and sent Mandy to her corner. Mandy was confused. Her coaches started removing her gloves and headgear.
"What happened?" Mandy asked them. "Did I lose?"
"No," they responded. "You just won. You stopped her on points."
A convincing victory on points. A knockout blow at Canada's oldest boxing gym.
"Oh, I'm really good at this," Mandy realized. "You start winning and you get that adrenaline rush. I just want to keep doing this. What else can I do and where else can I go with this?"
Argentina is next stop at the end of March as she leads the Canadian team into Buenos Aires. A top-four performance will send her to Japan this summer.
Jab. Jab. Right hand.
The diamond in the rough, once wary of taking her boxing to the next level, is 15-years polished.
These days, the ring Ali and Chuvalo once rumbled in is disassembled and in the possession of legendary boxing trainer Everton Mcewan.
But Mandy's fluid moves flow together like never before as the Olympics approach. She is sturdy and battle-hardened, like the old Sully's gym.
"I love the position I'm in right now," Mandy said.
"Even though I'm a veteran now I still work as hard as I did when I was trying to get to the top. I'm truly a student of the game. I love pushing my limits and seeing what I can do in the ring each and every day."
www.mandybujold.com