Canadian boxing champ in corner of national play and anti-bullying programs for schools
By Jeff Hicks
Team Bujold
KITCHENER —
Mike McDonald needed a place to stay as his intense focus on his successful national charity carried him eastward. So the Saskatoon-raised founder and Chief Executive Officer of Recess Guardians briefly stopped at a quaint little AirBnB in Kitchener to rest his barking prairie dogs.
An Ontario current of serendipity had landed him on good fortune's doorstep in July.
The francophone owners of the little basement apartment, Roger and Brigitte, were surely as pleasant and charming as a pair of western red lilies.
They also happened to be the parents of Tokyobound Olympic boxer Mandy Bujold.
"In business, you sometimes need luck to take it to the next level and we got extremely lucky in finding Mandy at this time," said McDonald.
A month later, Mandy has been named the director of business development for Recess Guardians, plus McDonald's new charity active8, a timely program aimed at helping Grade 4-6 school kids stay active while respecting social distancing in pandemic days.
Pugilistic providence — and an introduction that sprang from a bon chance meeting with Mandy's parents — brought Waterloo Region's community champ together with McDonald and his charity team.
The timing is impeccable.
A new Canadian school year looms with wary uncertainty.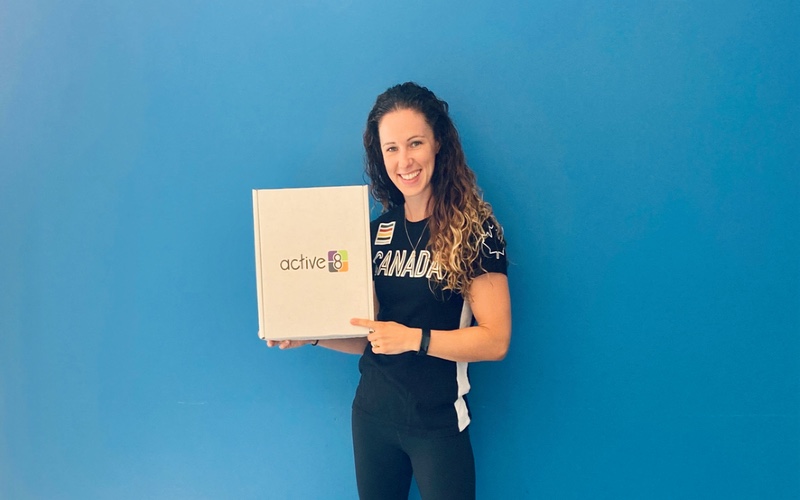 But active8 arrives in time to deliver a schoolyard or classroom kit of fun and play — think a game of 'tag' using pool noodles — that will help kids stay active and safe when their education resumes.
Mandy's business role, while continuing to train for the Japan Olympics next year, is to help connect active8 with corporate and community sponsors so the kits can be provide free of charge.
"A lot of teachers end up buying equipment out of their own pocket," Mandy said. "Realistically, that shouldn't be happening."
Partnerships with other community groups and grant opportunities are being explored by Mandy as the 11-time national champ prepares to become the first Canadian female boxer to appear in a second straight Olympics.
Mandy is busy preparing for 2021 and her career finale in the ring. She will lead the Canadian team into the Americas qualifiers for the Olympics in the new year. Her own daughter Kate is nearly two. But she happily embraces her new role and responsibilities with Recess Guardians and active8.
"It's exciting for me," said Mandy, who enjoyed running a high school boxing program in the past.
"It's something new for me to wrap my head around. I always like to have a project to work towards. This is a fun one. It has a community piece, which I love. You're working with kids and getting them active. Hopefully, that will lead them into sports."
Recess Guardians, now heading into its 13th year, teaches leadership skills to groups of school kids at 700 schools across Canada. About 400,000 students have been impacted.
A dozen Waterloo Region schools take part in that program. Mandy has high hopes that Waterloo Region will help springboard active8 to similar success nationwide.
Helping kids stay fit in Covid-19 times, while taking stress off teachers, is a worthy goal.
Mandy has already spent time talking to local school principals about the program. They were amazed, she said, and wanted to know how they can sign up.
Mandy's drive and passion for business became quickly obvious to McDonald after they met.
"This is the time we need to make an impact," McDonald said of the active8 program.
"We brought Mandy in because she's going to help thousands of kids across the country. That's what we're really excited for."
www.mandybujold.com