By Jeff Hicks
Team Bujold
MONTREAL — Suddenly, this is much more than a modest training camp to get reacquainted with your Canadian teammates inside a pandemic-proof boxing bubble.
This two-week gathering near the Big O now packs Olympic punch.
That's because the Americas qualifiers for the pandemic-delayed Tokyo Games are back on the calendar. The qualifier dates, May 10-16, have been set for Argentina.
Finally, the Buenos Aires continental qualifiers wiped out by Covid-19's arrival last March, are scheduled to happen. An email from Boxing Canada delivered the news.
Olympic spots for Japan in July, fingers crossed, are at last to be up for grabs.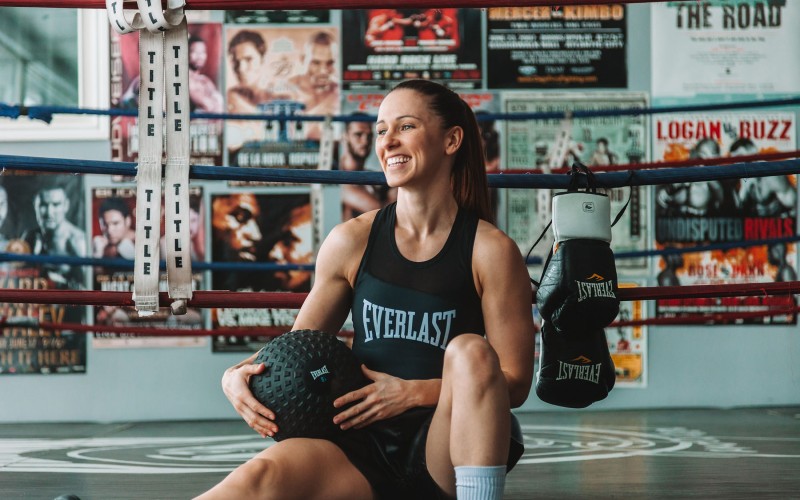 "Everyone is excited," said Mandy Bujold from Montreal after arriving for national boxing team training camp set to begin on Wednesday.
"Finally getting those dates was a relief moment. OK, we now have the end-point we're working towards."
For Mandy, who won gold at the Canadian Olympic qualifiers 13 months ago, a year of toiling and training in a perpetual pendulum thankfully will come to an end.
May is when she finally gets to lead the Canadian team into the Americas event in the 11-time champ's determined bid to become the first female boxer to appear in consecutive Olympics for Canada.
Her fly weight career was supposed to be all over by the time her daughter Kate Olympia turned two. Instead, it's ramping up to a furious finish featuring her precise footwork and punishing punch count. An extra year of one-on-one training with coach Syd Vanderpool is the blessing of patience and persistence.
"It's nice to come together finally as a team for the first time in a year," Mandy said on Monday as the reality of the looming qualifiers set in for the Canadian team.
"I think the excitement is going to show this week. Everyone's feeling the nerves now too. It gives you butterflies when you know, 'This is it. We've got to do it.' I think it's a good thing. It's really going to make everyone bring the intensity we need during this camp."
Mandy aims for a top-four finish in Argentina to earn her trip to Japan. A second qualifier event, which was expected to take place has been cancelled. So more Olympic spots are to be awarded after Argentina.
But Mandy doesn't care to gamble on a fifth-place finish or ranking-points roulette.
"For me, the goal is still top-four," Waterloo Region's community champ said. "Leave no question."
And that take-charge-of-your-destiny attitude is part of the message Mandy has for the young Canadian boxers, like Jaquan Carty and John-Michael Bianco. She drove to the Montreal camp with the two Toronto-area fighters.
"For some of the younger boxers on the team, it's almost like a hope. I hope to get to the Olympics. I hope I'm doing the right thing — instead of making sure you're doing the right thing and not leaving anything up to chance," Mandy explained.
"That's the biggest thing — understanding how you need to structure your training and your team around you to make sure you have the best possible chance."
If you put it all on the line, you'll have no regrets.
Mandy, with May circled on the calendar, is ready to put it all on the line.
"This is real now," Mandy said. "Let's do it."
www.mandybujold.com