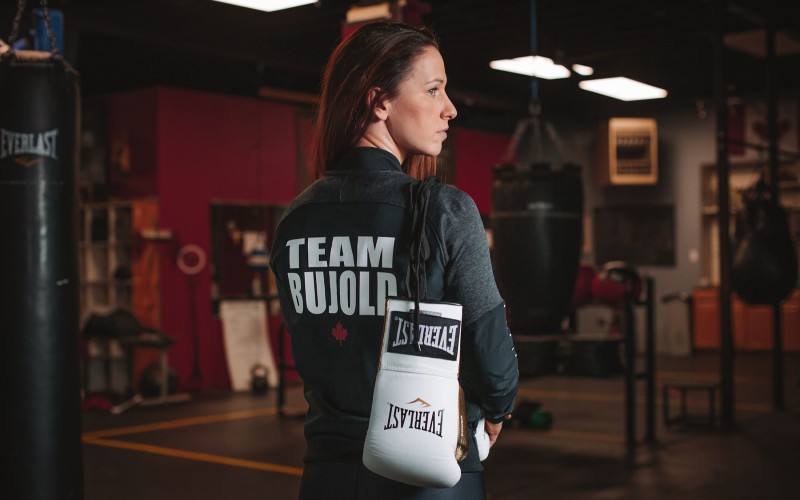 Olympic boxer 'excited' to be the face of the boxing giant's new Canadian branding
By Jeff Hicks
Team Bujold
KITCHENER —
Mandy Bujold aims to lead Team Canada boxers into the Tokyo Olympics.
You already knew that.
But Waterloo Region's community champ has already punched her way to another high-profile national gig as she trains for Japan.
Mandy has signed to become the face of Everlast Canada's very own Team Canada — an all-star squad of athletes, coaches and influencers from across the country.
"It's really exciting for me," said Mandy during a break from at-home training.
"Everlast the leader in boxing equipment. To join their team is an honour and I look forward to being part of the first ever Team Everlast for Canada. "
Mandy is very comfortable with Everlast. And Everlast Canada sees Mandy, an 11-time national fly weight champ, as a perfect fit for their elite-level company.
"As the global leader in boxing and fitness equipment with a heritage built on strength, dedication, individuality and authenticity, partnering with Mandy Bujold was a no-brainer — as she exemplifies all those qualities," said Eric Chamberland, Vice President, Everlast Canada.
"Mandy is a fierce athlete and champion both in and out of the ring, whose determination, tenacity and resilience has not only awarded her titles but is also what sets her apart as a true leader in the sport and community. We are proud to have her part of Team Everlast."
And Mandy, who made it to the quarterfinals of the Rio Olympics, is proud to join Team Everlast. Everlast's storied boxing history reaches back a century to legendary fighter Jack Dempsey, who won the world heavyweight title with a pair of custom-made Everlast gloves.
Mandy's connection to Everlast stretches back more than a decade, long before the two-time Pan Am Games gold medalist made her Olympic debut in 2016.
"It became a great partnership," Mandy said.
"If I ever needed anything, I'd contact Everlast and they'd always help me out. If I had events, they would be the first to support it. It's great to work with a team that is genuine and takes the time to create meaningful partnerships."
Now, in the wake of the ongoing global pandemic, the at-home workout industry is booming. Everlast decided to put together its own Team Canada, regardless of whether the year-delayed Olympics happen in Japan or not.
Mandy expects her role will include hosting live workouts from home on Instagram, as well as sharing tips and tricks on boxing techniques.
"A lot of it, right now, will be virtual," said Mandy, who fought at the Rio Olympics in 2016 and is a two-time Pan Am Games champ.
Follow Mandy on Instagram to keep up with her Road to Tokyo @mandybujold