Monthly subscription box launches in Waterloo Region and Wellington County with 2X Olympian Mandy Bujold as Director to "Fight For Local"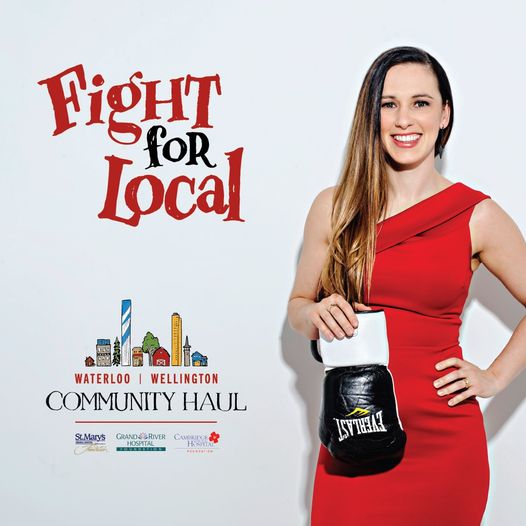 Waterloo-Wellington, ON — Mandy Bujold, 2X Olympic boxer and Waterloo Region resident, is taking on a new fight – for local. Waterloo-Wellington Community Haul is a monthly subscription box celebrating the best our communities have to offer, delivering beautiful local products right to your doorstep every month, while a portion of every box sold goes directly to three cause partners: St. Mary's General Hospital, Grand River Hospital Foundation, and the Cambridge Memorial Hospital Foundation.
"The unwavering support I received from the community allowed me to concentrate on my training and be the best boxer I could be," says Mandy Bujold, Director of Waterloo-Wellington Community Haul. "This allowed me to become an 11X Canadian champion, a 2X Pan Am Games gold medallist, and a 2X Olympian. Now that my boxing career is coming to an end, I want to do what I can to give back to the community that made me a champion in my sport. I want to invite you to join me in this fight for local."
Waterloo-Wellington Community Haul Board Director, Syd Vanderpool, agrees. As a lifelong Waterloo resident, coach and formerly ranked #1 super middleweight boxer, he believes that "This is one fight we can win together. Fighting for local while giving back, one box at a time. We are so excited to bring Community Haul to the region!"
The Canadian Federation of Independent Business reports that more than 70% of money spent stays directly in the community when you shop locally. When you purchase from large, global corporations, that number is only 14%.
"As small business owners, we fight for local every day. When Mandy Bujold approached us to be part of her newly launching Waterloo-Wellington Community Haul box, we were in. Not only does Mandy know a thing or two about fighting, we could immediately see her passion for quality and for giving back to her community. To be a part of something that supports our fellow small business owners, brings a totally unique offering to the community, and gives back to local healthcare – what's there to think about? You bet we're in … and we can't wait," says Susan Parks of All Things Tea.
Community Haul subscribers will receive a box containing five to six locally sourced and produced goods each month. The goal is to support more than 100 local Waterloo Region and Wellington County businesses each year with bulk orders. $5 from every box will be divided and donated equally to St. Mary's General Hospital, Grand River Hospital Foundation, and the Cambridge Memorial Hospital Foundation.
"We are so grateful to Waterloo-Wellington Community Haul for choosing to support our three local hospitals with this amazing partnership," said a joint statement on behalf of St. Mary's General, Cambridge Memorial and Grand River Hospital Foundations. "We encourage everyone to subscribe to Community Haul. This is a great initiative that supports local businesses, while ensuring exceptional healthcare is close to home."
The box will feature the best the regions have to offer, including beautiful art and craft pieces, clothing, specialty foods, and culinary goods.
Community Haul subscription boxes will be available in two options:
-The Long Haul: $52+tax per month for a one-year subscription (one box per month)
-No Strings Attached:$60+tax per box, per month, and allows you to cancel at any time
Waterloo-Wellington Community Haul will also have corporate boxes available, as well as one-time holiday boxes, launching just in time for the 2021 holiday season!
To join Mandy and Syd and their fight-for-local initiative, to subscribe to Community Haul, or to learn about becoming a vendor, please visit wwcommunityhaul.ca.