By Jeff Hicks
Team Bujold
WATERLOO —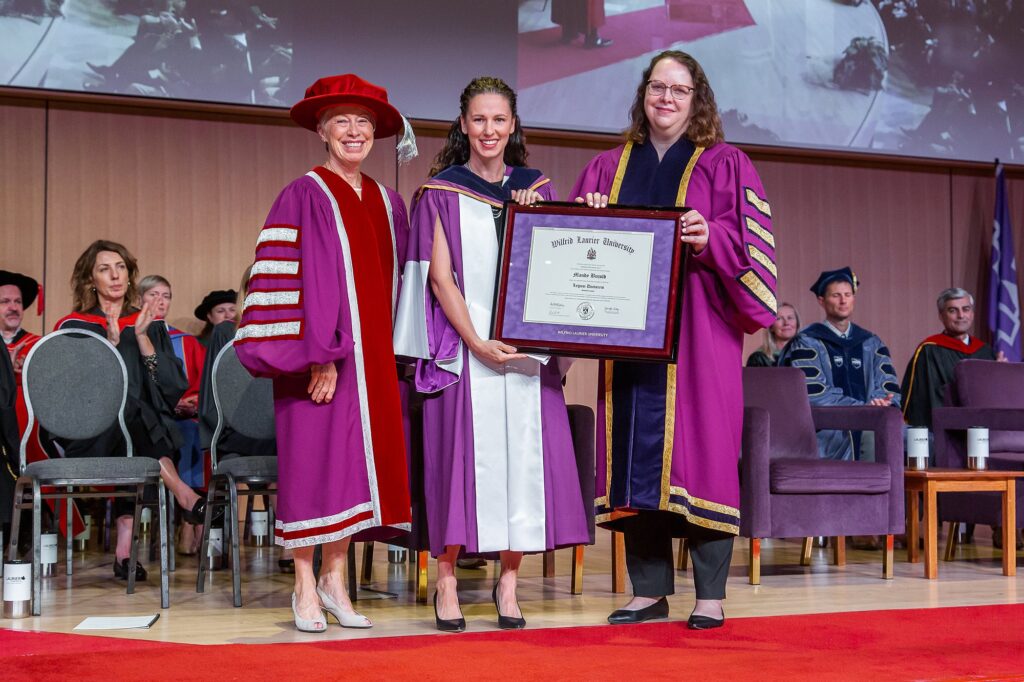 Doctor Mandy Bujold. Has a nice, uh, ring to it.
"I don't know if hearing that will ever get old," laughed Mandy, after receiving an honorary degree — and title of doctor of laws — from Wilfrid Laurier University chancellor Eileen Mercier at Tuesday's spring convocation before hundreds of graduating students at Lazaridis Hall.
"Never in my wildest dreams did I think, when I was starting my boxing career, that I would end up here, But, to be honest, the timing is actually perfect. It's a great way to finish off this chapter, the boxing chapter, of my career. It's a perfect end to a great career."
You want wildest dreams? This is a double-jab doozy. Waterloo Region's community champ had just received an honourary doctorate in the same hall her father Roger spent two years of his life building during his long construction career.
The same Laurier degree Lennox Lewis, the world's last great heavyweight champ, received a dozen years ago.
But it got even wilder during Mandy's career.
Two-time Olympian. Back-to-back Pan Ams flyweight gold. Eleven-time national champ.
All of that is pugilistic prologue to Bujold's greatest triumph to punctuate two decades worth of lightning-fast footwork and on-point punches.
In a global courtroom with the athletic world quietly watching, with lawyer Sylvie Rodrigue's team in her corner, Mandy knocked out a bellowing bureaucratic Goliath.
She out-maneuvered the International Olympic Committee and the rope-a-dope sexism that threatened to keep her out of the pandemic-delayed Tokyo Games.
Mandy, robbed of a medal by a strength-sapping virus at the Rio Games, won a stunning victory before the judges.
No, her pregnancy during an arbitrary Covid-altered qualifying period could not be dismissed as a tough-luck injury by the IOC brass.She won the right — a right she had already earned with a splendid return to form — to fight in her second Olympic games.
Yes, Mandy lost her only fight in Japan. Nobody cares.
But her victory to get there will resonate through the five-ring ages and beyond.
That's why a crowd of more than 600 erupted into applause while Kim Dawson, Laurier professor of sport psychology and long-time member of Mandy's team, recounted a legal coup the likes of which the sporting world has never seen.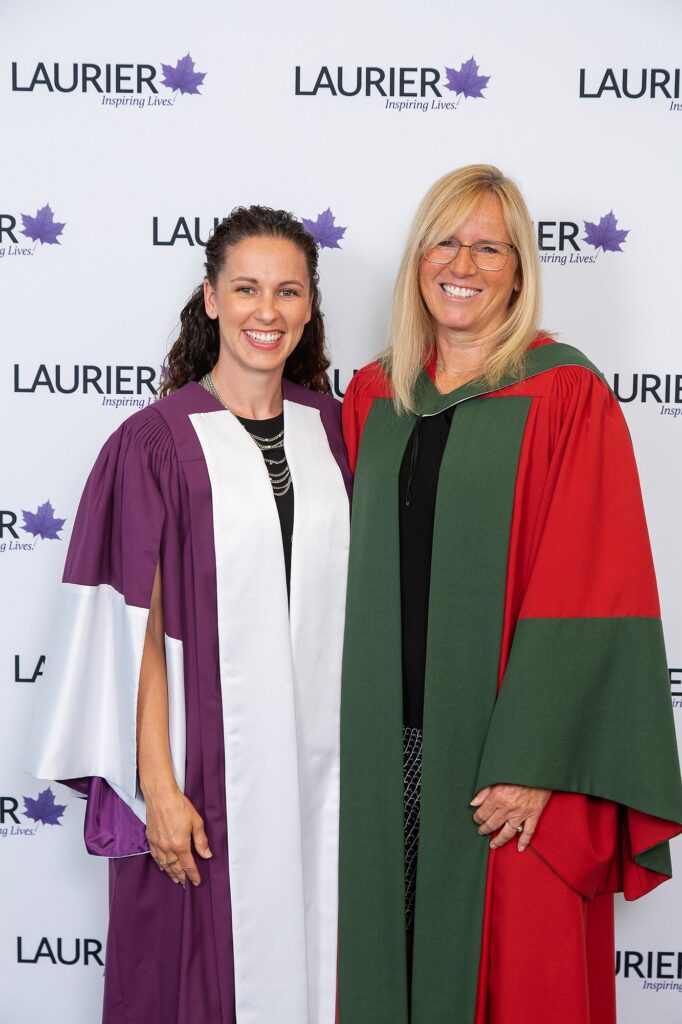 All in the name of fairness. In the name of gender equity. In the name of motherhood.
"She is an inspiration to young women and athletes everywhere," Laurier chancellor Eileen Mercier said of Mandy. "So a lot of that mid-speech clapping was coming from those people who are always looking for a champion."
Take the punches and keep moving forward. That was Mandy's golden message to the graduating Golden Hawks.
Mandy leaves boxing a champion beyond the worn triple ropes and yellowing scorecards.
Motherhood, thanks to Mandy, is now a real joyful option — not an unfortunate obstacle — for every athlete in any athletic discipline going forward.
"I always wanted to leave my sport better than I found it," Mandy told Laurier sciences and kinesiology graduates during an inspirational eight-minute address. "I used to think the only way I was going to do that was by winning an Olympic medal. In the last few years, I realized that of all the battles I prepared for in my career as a boxer, never in a million years did I expect my battle on gender equity to be the most difficult. It ended up being the biggest fight of my career but also the one that was most rewarding. What my team and I were able to do in the lead-up to Tokyo has changed sport forever."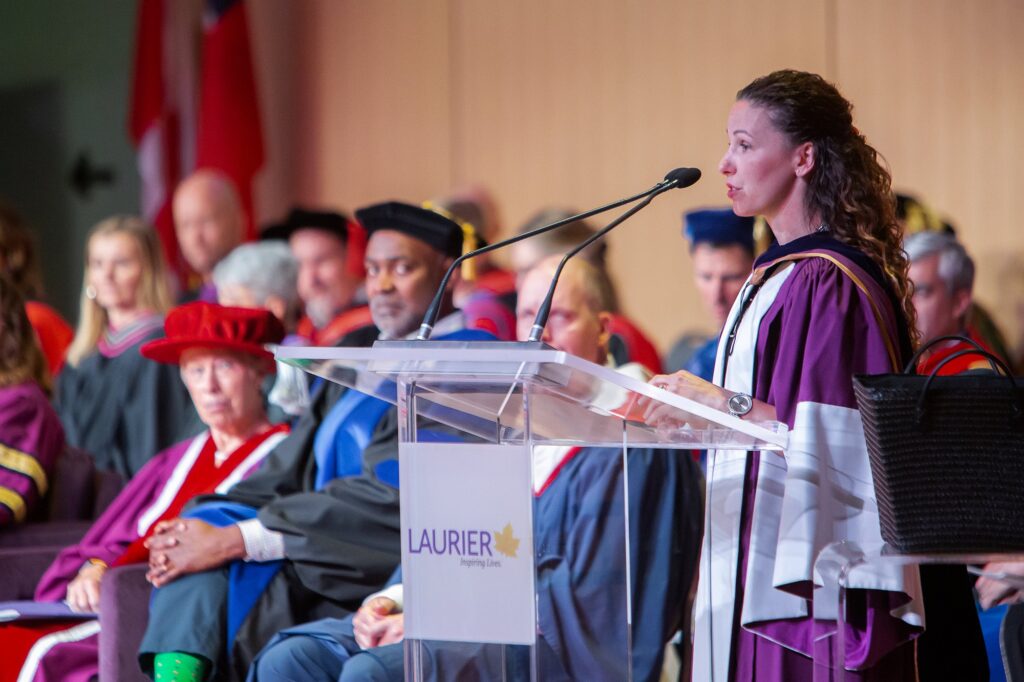 Did Mandy do it alone? Not a chance.
Rodrigue was in the Laurier crowd on Tuesday and got a round of applause when introduced by Mandy. So was her sport scientist Sheldon Persad, Mandy, fought back tears afterward when talking about the limitless support of husband Reid. During Mandy's speech, Reid bounced 7-month old Myra on one knee while their first daughter, Kate Olympia, played with a teddy bear. The stuffy was dressed in a graduation gown and cap.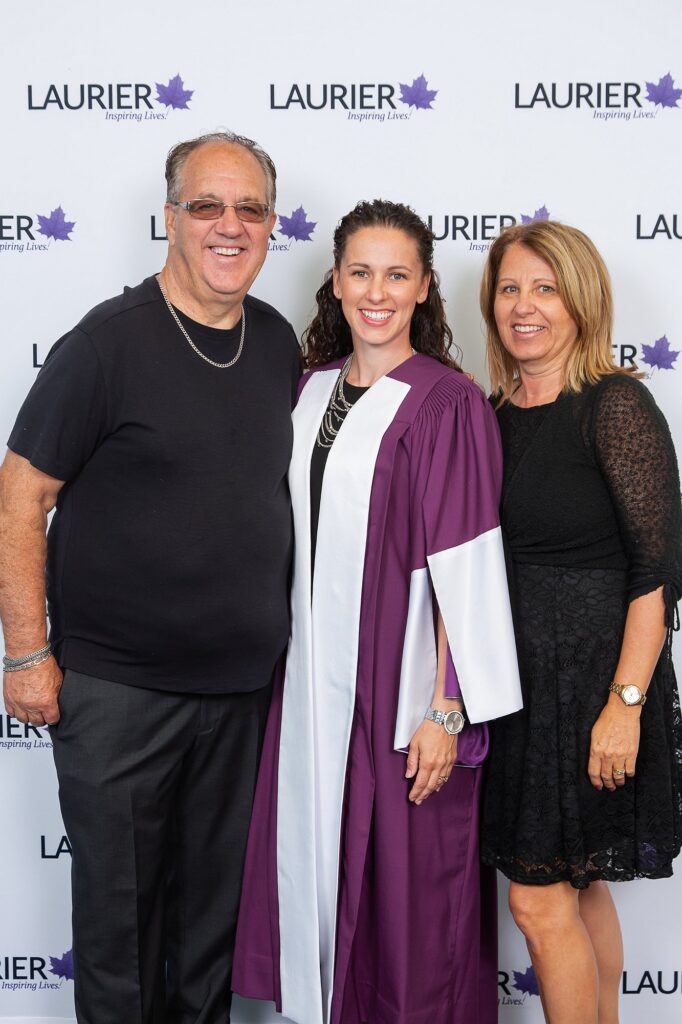 Meanwhile, Mandy's parents watched and listened. Roger admired his daughter's public speaking ease. A boxer and an orator a great mother to two little girls. Roger was proud.
Brigitte, her mom, was amazed at where boxing had taken the little girl who once swatted at the heavy bag in the basement.
What did Roger and Brigitte do as parents to bring us to this happy occasion?
"Support the passion," Brigitte said.
How fitting that mom has the last word.