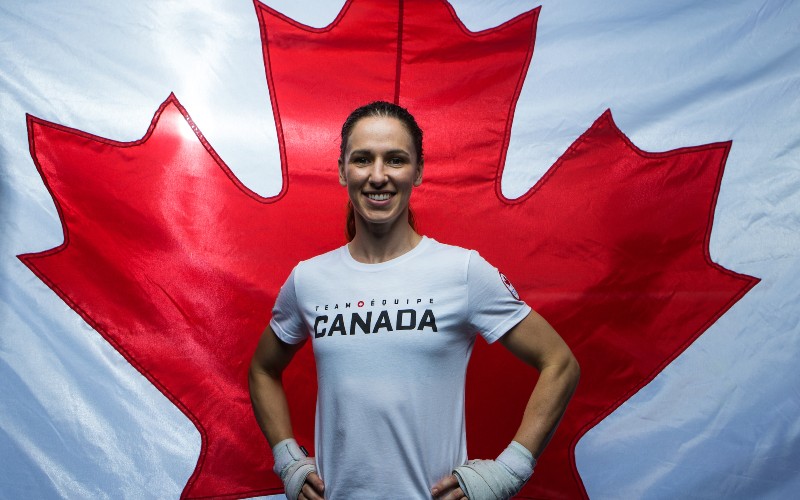 By Jeff Hicks
Team Bujold
KITCHENER —This is not a regret-ridden retirement. This is a jubilant celebration.
For the bilingual Mandy Bujold, Waterloo Region's spirited community champion in the boxing ring and beyond, it's long overdue. Que la fête commence.
"I feel like I've never actually done that — celebrate my career," said Mandy, who confirms her unmatched métier of footwork and ferocity has come to a close at age 34. "I feel like I've gone from one event to the next and I was always so narrowly-focused on that next big achievement that I never took the time to enjoy my achievements, celebrate them and really understand how big some of them were."
So let's celebrate 169 career amateur bouts — one of the highest numbers of any Canadian boxer ever — on Mandy's 18-year science douce path to scoring the Mother of All Olympic Victories in court for all women athletes.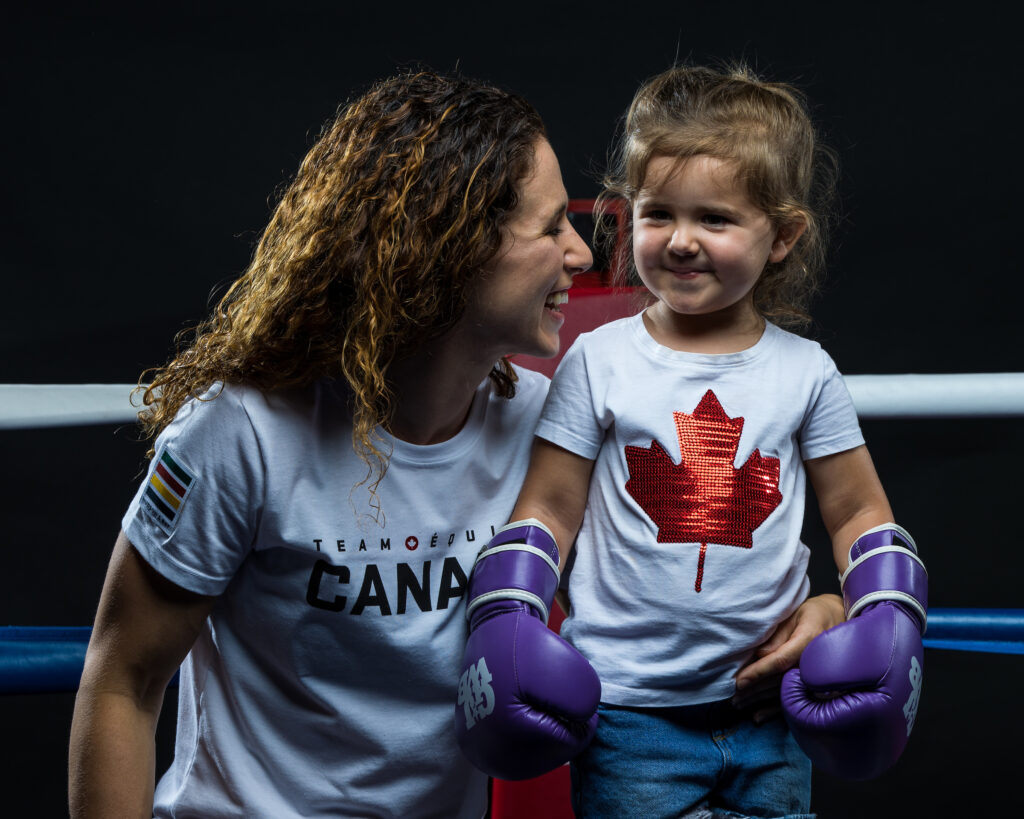 Eleven national fly weight titles. Long was the ring reign for the first Canadian woman to box in two Olympics, Rio 2016 and Tokyo 2020. It should have been three, including London 2012. But, politics and jiggery-pokery. Sigh.
A second-straight Pan Am Games gold, unprecedented for any female fighter, was her emphatic response. Remember Mandy's two-foot jump for our joy after beating whining American world champ Marlen Esparza in Oshawa in 2015. With that leap, boxing became more than just something she did. Suddenly, boxing was who she was, years before she became the world's most famous fighting mom.
A gold medal on St. Patrick's Day 2016 at the Olympic qualifiers in Buenos Aires followed. Mandy was off to Rio. Finally, she was an Olympian.
"Those two moments were big," said Mandy, recalling her gold-medal triumphs in Oshawa and Argentina. "When you compare that feeling of qualifying versus the feeling of actually being at the Olympics, the feeling of being at the Olympics maybe didn't meet my expectations. But the feeling of qualifying did — because I had worked so long and hard for that moment. The feeling was pretty amazing.
"But more 'amazing' was still to come. Funny that Mandy, who was born in Port Hope and raised in Moncton, NB and Kitchener, only counted two knockout wins in her two-decade duck-and-slip dossier. Ninety seconds into her second fight in 2006, she toppled an unsuspecting opponent with a merciless right hand in a storied Toronto gym above a broken-down auto shop. The same Sully's Boxing Gym where greats Ali, Lewis and Chuvalo trained. Her final temple-smacking knockout was also in Toronto 15 years later.
This time, Mandy wasn't draped in Donna Mancuso's oversized blue national team jersey from so long ago. There were no ring ropes or baggy trunks or civilized headgear. Just office tower attire for an Ivory Tower showdown.
This was a down-and-dirty, winner-take-all legal occasion. A virtual hearing before the Court of Arbitration for Sport with her maternal Olympic dreams on the line. Her motherhood-dismissing opponent? A five-ring Goliath called the International Olympic Committee. A bigger Boys Club behemoth in sports does not exist. Somehow, Mandy won. A panel of men ruled in her favour.
Mandy could not be denied a place in the Olympics simply because she was pregnant during a competition period retroactively declared to be the qualifying measuring-stick in a pandemic-shaken world. Amazing. She took the IOC to international court and flattened one of the the most well-monied marketing machines in the world as June faded in 2021.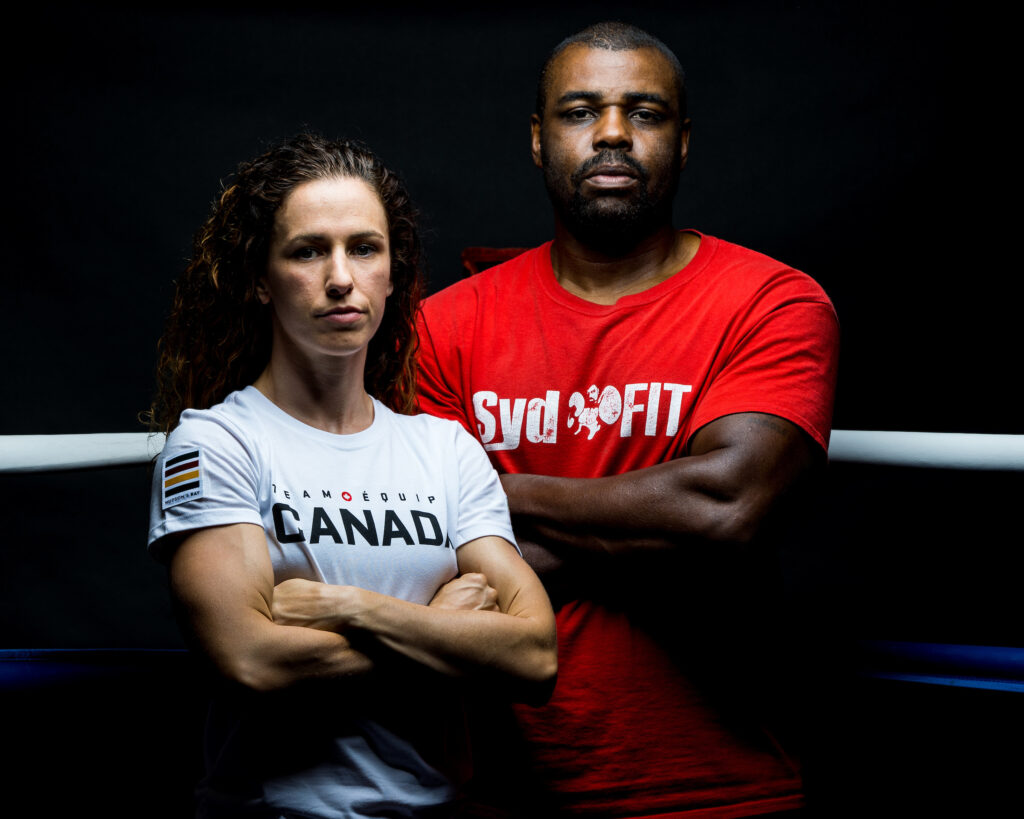 It matters not that Mandy lost her only fight in Tokyo, with COVID restrictions keeping coach Syd Vanderpool from being in her corner when she needed his guidance most.
The legal triumph was simply stunning. "The last fight I had outside the ring was huge, important," Mandy said. "There are a lot of opportunities in the works right now from what happened in that case that are going to lead to bigger things and, hopefully, a bigger change than any gold medal could have ever done." A social media maelstrom churned in her favour before the Games-changing ruling came out. Sports icons lined up on Mandy's side. Lennox Lewis. Hayley Wickenheiser. Billie Jean King.
"Pregnancy is not an injury and should not be treated as one," tennis legend King said on Twitter. "@MandyBujold should be allowed to compete. Women athletes will continue having babies and the I.O.C needs a rule in place now."
Thanks to Mandy, the rule was put in place for the IOC by the court.
It was a landmark victory for female athletes of the present and future, including her daughter Kate Olympia. Mandy couldn't be kept away from the Tokyo Games essentially because she chose to have a baby back in 2018.
The pandemic wiping out scheduled qualifiers couldn't be used as a convenient excuse to deny Mandy her place in a second-straight Olympics.
The ruling had a clear message the IOC could not ignore. "This is a message for all women," said Mandy, who was ranked No. 2 in the Americas before her pregnancy. "If you want to have a family & compete at the highest level, you can do it." With lawyer Sylvie Rodrigue in her legal corner, Mandy fought like a mother. It was so fitting.
Only a few years earlier, Sylvie's daughter was interested in boxing. Sylvie reached out to Mandy to ask questions about female athletes in sport. Mandy later trained Sylvie's daughter.
"Who knew that three or four years down the road, she would be such a big part of this legacy this precedent-setting piece that I'm leaving behind in the sport," Mandy said. Two moms fought side-by-side for all moms. For all parents who aspire to be Olympic athletes. And with pandemic-delayed Tokyo just days away in 2021, Mandy won her right to fight. A crumbling pillar of gender-based injustice hit the canvass hard. Mandy delivered the determined blow and surveyed the wreckage of a twisted system.
"Seeing the real politics behind sport," Mandy said. "Thank God a lot of athletes never have to deal with that. There were a lot of moments where I could have easily walked away and said this is not worth the stress." But she stayed the course. The Olympics, all of sports, will never be the same.
How's that for a legacy?
"There are few athletes who retire and leave behind a Hall of Fame career but fewer have taken it to the next level and built a sport legacy," a statement from Boxing Canada executive director Roy Halpin said. "Mandy Bujold has accomplished this, not only for women in boxing, but also for women in sport. We, Boxing Canada, wish to thank Mandy for her exemplary commitment and success and, even more so, hope that she will continue to be at arm's length from the sport she has successfully defined."
Mandy has no plan to walk away from sports. She's still going to train. She just won't compete. She'll miss praying with her mom Brigitte, her spiritual inspiration, before competitions. But creating content still relevant to the ring, and helping the next generation of athletes is still her goal. A documentary is in the works. She'd even like to write a book.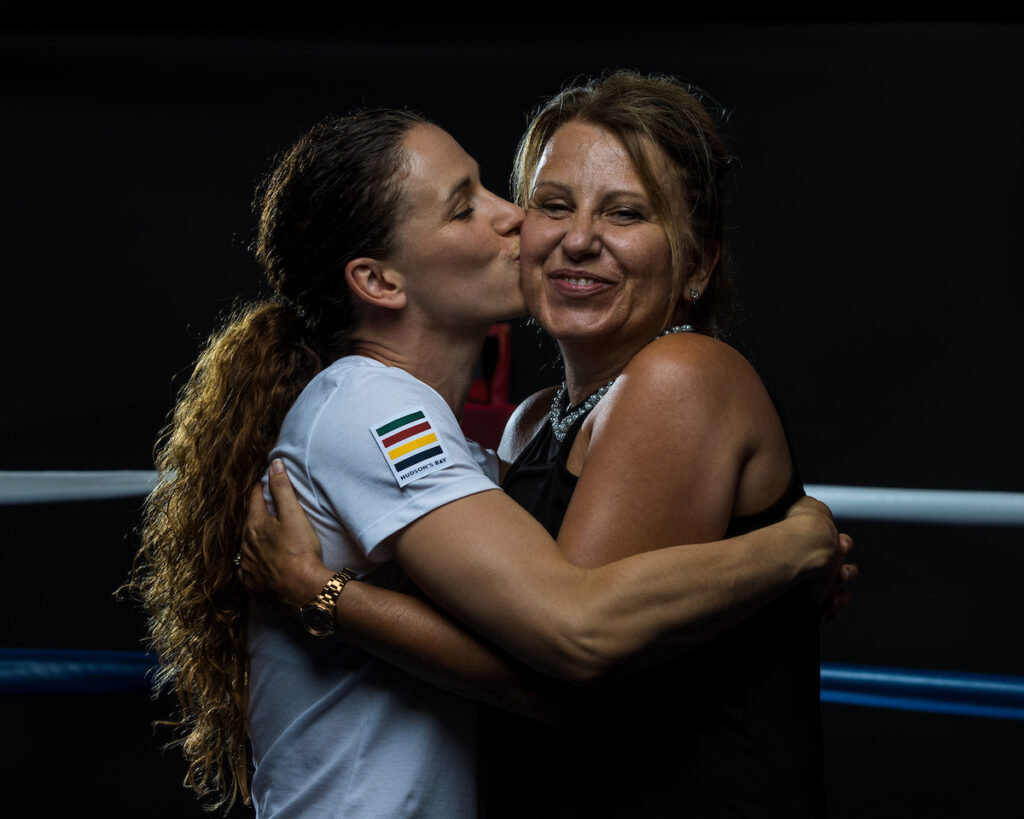 She accepts that Olympic gold wasn't in the sometimes-cruel cards for her. She was so close in Rio but became sick, hospitalized and dehydrated, before her ill-fated quarter-final bout. And then the pandemic arrived to push back and complicate her plans for Tokyo. She could not control the uncontrollable. Especially Rio. "I was so frustrated with the timing of how it happened," Mandy said of her 2016 illness. "Why me? Why then? Why that moment?" So many questions without obvious answers. So many what-ifs.
On her 34th birthday, in the ring after her only bout in Japan, Mandy put her thumbs together and made the shape of a heart that little Kate and husband Reid saw on TV back home.
"I know deep-down, it's been an awesome career," Mandy said. "But you never actually reached the goal you're reaching for. That's the hardest part of being an athlete and what a lot of athletes struggle with — trying to somehow find that closure." But Mandy knows it is time to retire from competition. The court battle with the IOC exacted a terrible toll on her. Yet so many still ask her if she will continue competing. "I'm done with 'fighting' in all senses of the word," she assures. "The fight I had in court, it took everything out of me. It took everything. It kind of sealed it for me."
So closure is here. Two Olympics. A pair of Pan Am golds. An enduring national champ. A court victory for equality and motherhood that will echo through sports history.
The legacy is staggering.
Celebrate with her. You deserve it. She deserves it. C'est le temps. It's time.
"I just finally got the feeling of, 'You know what? I've had a good career," Mandy said. "It's more of a closure thing. Why not celebrate it?"
*IMAGES BY MICHAEL P. HALL FOR COC